Picturing Wright
An Album from Frank Lloyd Wright's Photographer
This book draws together 150 of Guerrero's photographs of Frank Lloyd Wright, his homes, his life and his work to capture the architect in a refreshing new light. The photographs come to life through the entertaining, often humorous stories Guerrero tells to accompany them, from what Wright thought of cows to how he rearranged client's interiors to suit his own vision. The result is a moving, personal album that will delight everyone who is entranced by Wright—and all those who thought they knew him.
Pedro Guerrero: A Photographer's Journey
Frank Lloyd Wright, Alexander Calder, and Louise Nevelson
In "A Photographer's Journey," Guerrero steps out from behind the camera to recount his remarkable life. Born in 1917 in Arizona, he grew up in a small segregated town whose casual bigotry toward Mexican-Americans he never forgot, although he lived to be 95. An art school dropout, his first professional photography job was chronicling Taliesin West, the desert home of Frank Lloyd Wright. Guerrero was just 22 and had never seen anything like it. His decision to treat the low-slung redwood and stone buildings as sculpture pleased Wright, who promptly hired him as his photographer in residence. Guerrero's idyll with Wright was interrupted by World War II, when he was forced to make a painful choice between two powerful men, Wright, an isolationist who urged him to resist, and his father, who insisted he fight for his country. Though torn, Guerrero enlisted. After the war, he resumed his relationship with Wright, which continued until a a few weeks before the architect's death in 1959. Armed with his mostly Wright portfolio, he moved to New York and found almost immediate success as a jet-setting freelance photographer during the "Mad Men" era, documenting interiors, houses and buildings all over the world for the major shelter magazines. But when he was blacklisted for his opposition to the Vietnam conflict, he turned his camera from slick and pristine spaces to a 13-year study of another genius who changed his life, the sculptor Alexander Calder. Guerrero became an important chronicler of his works, brilliantly cluttered studios and wonderfully personal and inventive interiors. Later he documented the severe and mysterious studio and home of another sculptor he much admired, Louise Nevelson. He died in 2012.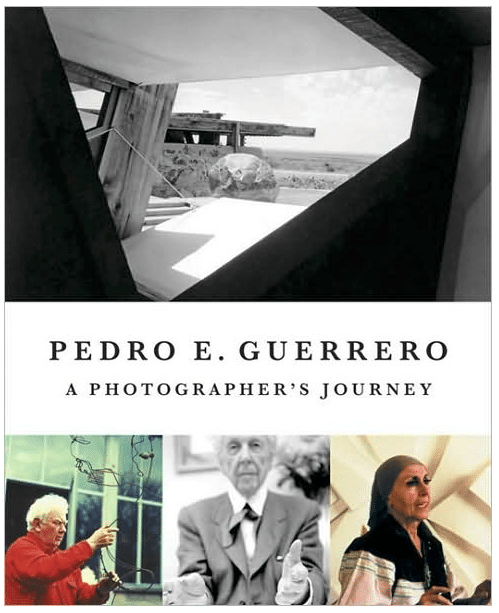 Please contact
Princeton Architectural Press
for more information:
37 E 7th Street, New York, NY 10003,
phone 212.995.9620, fax 212.995.9454, sales@papress.com.
Calder at Home: The Joyous Environment of Alexander Calder, Stewart, Tabori and Chang. (1998)
Over a period of 13 years, Guerrero devoted much of his time to photographing Alexander Calder and his wife, Louisa, in their homes in Roxbury, Connecticut, and Sache, France. Known the world over for his creation of the mobile, Calder extended his unbounded creativity and enthusiasm to every corner of his existence, from living room hearth to dining table, from kitchen to bathroom, from studio ceiling to studio floor. Guerrero's photographs capture the Calders in their exotic surroundings—created with the same imagination and playfulness of the sculptor's work—and underscored by the engrossing story of his close relationship with the artist.
Pedro Guerrero: Special Limited Edition Portfolio, Cattle Track Arts and Preservation
Limited Edition Portfolio
In 2010 Cattle Track Arts and Preservation, an Arizona nonprofit dedicated to preserving Arizona history, released a large-format limited edition hardbound portfolio covering Pedro E. Guerrero's photographic career with Frank Lloyd Wright, Alexander Calder and Louise Nevelson. Only 100 copies were printed. Each was signed and numbered by Pedro E. Guerrero. The lead essay is by Hunter Drohojowska-Philp, the author of "Julius Shulman, Modernism Rediscovered" and "Rebels in Paradise." The book includes a digital print of Taliesin West by Pedro E. Guerrero.
To order call Cattle Track Arts and Preservation
6105 N. CattleTrack Rd. Scottsdale, AZ 85250
Phone: 480 420 4281
10am-5pm, Mon-Sat
Pedro E. Guerrero: Portrait of an Image Maker
Documentary Video
This 70-minute documentary, a production of Gnosis, Ltd. (www.gnosis.media) was completed in 2007 and aired through 2012 on PBS. The film features features Guerrero's work with the architect Frank Lloyd Wright, Alexander Calder, creator of the mobile, and pioneering sculptor, Louise Nevelson and many of his other notable subjects. Photographs selected from Guerrero's 60-year historical archive illustrate this story of a man who came from humble beginnings but went on to photograph the work of some of the country's most celebrated artists and architects.
Interviews with Guerrero serve as the foundation of this documentary, balanced by comments from the late Julius Shulman, the architectural photographer, Terence Riley, former chief curator of architecture and design at the Museum of Modern Art in New York City, Richard Marshall, Whitney Museum curator and art consultant, the late Ada Louise Huxtable, architecture critic and historian, and members of the Frank Lloyd Wright Fellowship, as well as family members and personal friends.
The video is available on DVD at the Taliesin Bookstore (Wisconsin) or you may contact Gnosis Ltd.:
Phone (480) 488 2691
email info@gnosis.media