Screening and Discussion of American Masters—Pedro E. Guerrero: A Photographer's Journey
Tuesday, December 1, 2015, | 6 p.m.
Costantino Room | 2nd Floor | Fordham School of Law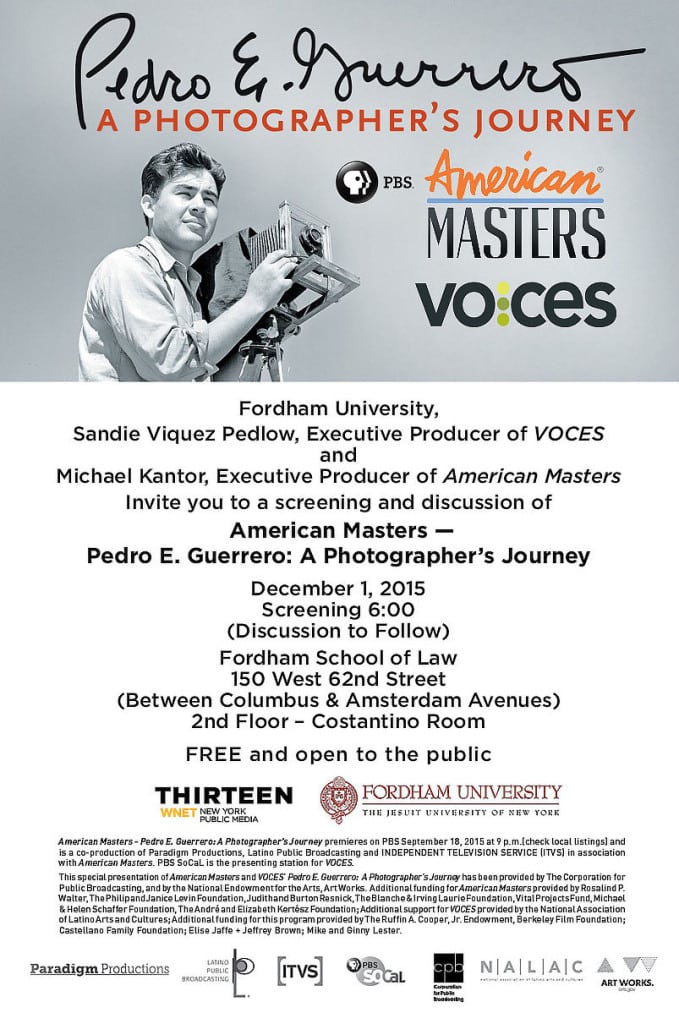 Fordham University and WNET New York Public Media invite you to a screening and discussion of the American Masters film Pedro E. Guerrero: A Photographer's Journey.
The American Masters series and Latino Public Broadcasting's VOCES series join forces for the first time to explore the life and work of photographer Pedro E. Guerrero (September 5, 1917–September 13, 2012), a Mexican-American born and raised in segregated Mesa, Arizona, who had an extraordinary international photography career.
Filmmakers Raymond Telles and Yvan Iturriaga (both Latino Americans) showcase an in-depth, exclusive interview with Guerrero alongside his photography to explore his collaborations with three of the most iconic American artists of the 20th century—architect Frank Lloyd Wright and sculptors Alexander Calder and Louise Nevelson. Using his outsider's eye to produce insightful portraits of important modernist architecture, Guerrero became one of the most sought-after photographers of the era, yet his story is largely unknown.
Pedro E. Guerrero: A Photographer's Journey highlights the milestones in Guerrero's life, including his serendipitous enrollment in photography classes; his 1939 meeting with Wright at Taliesin West in Scottsdale, Arizona; his World War II service; and his post-war magazine photography career in New York City, where he shot interiors while his work with Wright continued. Settling in New Canaan, Connecticut, Guerrero describes his life after Wright's death, his work with Calder, and the end of his magazine assignments because of his vocal opposition to the Vietnam War.